Sunday, November 29, 2009 12:55 AM
hey readers! Its been a while ever since i updated my blog due to my busy schedule. Currently, I have been working in NUM all the time, so do not really have spare time to blog out what i have done. Hahaha! Have been working and studying all the time, neglecting my parents at the same time. Luckily, the management didn't give me full shift today, manage to have a dinner with my parents.
So how am I doing now? doing fine in everything except my incoming test, labtest and CSW written test, which is like in 1 or 2 weeks time. Got to be kidding right? cause 1/2 a semester is going to end soon, and Semester Exam will be next, after that will be NS. After NS, 1/4 of my life will be gone. Hahaha!
Anyway next week is also my NAPFA and my NS medical check-up. NAPFA should be totally fine with me, except my sit and reach. I should be able to get a gold without a sweat? Haha! Im still as usual, very thickskinned. And about my NS medical check-up, i just hope my urine doesn't contain any blood substance again just like 2 years back for my medical check-up.

Hoping in progress*
Anyway, i didn't really talk NUM's stuffs over here right? What is so fun working there? Is the people there that makes environment fun! haha! actually not all, is just the people from CLM2 and CLM1 and some from CINE. Other then thinking that wearing slippers and shorts to work is cool, looking at FIT and BIG SIZE people is even more cool. Its not as if im gay, is just makes me want to train as fit as them, but not as big size . I just hope im a very fit guy, not a KING KONG. But other than that, some other things "turn me off" such as the stupid meeting that they going to host tmr. From 11pm to 2am, is damn freaking crazy and im lucky that the next day i do not have any labtest at all, but it will still be very damn tiring after all the training on monday.

Shit them!
Okay other than that, i don't think anything much more to say, other than...
so i will post again another time, maybe after my MST? or depends. Anyway christmas is coming soon, im looking forward to this year christmas. =) I have not been celebrating christmas in my polytechnic's life, have been a workaholic ever since after i ended my secondary school. Anyway this year should be quite a special one for me, i guess? Good night! =)
129th p0st~~~

[

♥

_

♥

]
Tuesday, September 8, 2009 10:57 PM
finally is the blue m00n t0 bl0g again... =)
these 2 weeks have been g0ing 0ut all the time...
watch 2 m0vies in 2 weeks... Final Destination 4 and Time Traveller's wife... =)
I watch FD in 3D... hahaha!!! quite fierce f0r me actually, cause the nails from the screen keep on flying into my eyes...
s0 i was actually holding my 3D glasses all the time... in case nails going to fly into my eyes, i can shift my glasses up and down... hahaha!!! but the movie overall is still not that gore as compared to others...
as for the Time Travellers, its quite interesting at the start and touching in the ending... but for the middle... i guess i don't have to say until so obvious... =)
anyway, t0day went clark quay f0r dinner buffet with my parents and relatives... t0day is g0ing t0 be my relatives' last day in singapore...
they going back to hong kong tmr... hahaha!!! i g0ing t0 miss them!!!
plus my br0ther is als0 flying to philippine tmr... and i am going to wish him all the best in gambling... XD
after buffet, went back with my brother first on his motorbike...
w0ah!!! i freaking damn long never sit on the bike lia0...
and my brother was driving very fast...
i am was like trying to hold on to the bike, in case he jam brake, if n0t i going to fly... really fly...
h0wever t0day, i am not used to his bike... my leg was trembling on the way back home... talking about bike, i freaking damn long never went to BBDC and continue my bike's lesson... i think i don't even remember how to start the bike, how am i suppose to pass my stage 2, when i am still stuck at the freaking slope... =(
and my brother also told me that... 0nce i pass my bike license, he will pass his bike to me... make me so tempted... damn freaking ass... XD
but i will start to save up money for my driving lesson... i am actually quite keen to learn how to drive a car instead... haha!!!
anyway this friday or saturday will be my first day of work in NUM... hahaha!!!
its is like finally!!! and i just finish my training last 2 weekends...
i was freaking shock, when i went for the training... cause alm0st all the guys there is double of my size, and 2 times fitter than me... i am totally speechless... hahaha!!! but its okie... someone enlighten me... just be what i am... can't change the facts that i am suppose to be small size... =)
but i still hope i can gain more fats to make it more comfortable... XD
anyway i will still maintain my fitness, for my napfa... hahaha!!!
going to aim 15 to 20 pull ups in 30 seconds...
need to skip also to train for my standing board jump...
for sit and reach, in order to pass it, i think have to hire a professional yoga master to stretch my nerves... if n0t i can forget about getting gold for my napfa... =(
128th p0st~~~
"If you don't have confidence, you'll always find a way not to win."
-- Carl Lewis
Thursday, September 3, 2009 1:50 AM
bl0g bl0g bl0g bl0g bl0g!!!!
lazy t0 bl0g bl0g bl0g...
Finally exams are finishes, thank g0d!!! but it is still not my holiday yet. upcoming w0rk is FYP!!! going to chiong FYP like crazy this september holiday, have t0 finish it bef0re 0ct0ber. praying that tmr, the shop that does the coiling will be opened t0day...
friday will be doing FYP in sch00l, and saturday and sunday will my NUM training... actually im n0t l00king f0rward t0 the training, i suddenly very lazy to w0rk n0w... but t00 bad, n0w having s0me financial pr0blem... g0t t0 w0rk and s0lve the pr0blem... have t0 blame myself t00 f0r buying the samsung jet with0ut thinking twice... i just happily bought it, and the money from my bank also happily flew away... so damn freaking ass... [=_=]
and my distant relatives still in singapore... but just went to malaysia yesterday... so im home al0ne again t0night... yawn~~~
127th p0st~~~
"Anything's possible if you've got enough nerve." -- J. K. Rowling
Wednesday, September 2, 2009 2:16 AM
2nd day 0f september... =)
"We can never judge the lives of others, because each person knows only their own pain and renunciation. It's one thing to feel that you are on the right path, but it's another to think that yours is the only path." -- Paulo Coelho, Brazilian novelist
126th p0st~~~ =) =) =)
Monday, August 24, 2009 9:19 PM
y0y0y0y0y0y0!!!!
w00ts g0nna upl0ad s0me ph0t0s... =)
s0me pictures is the gift from my friends and colleague... hahaha!!!
the gift with the article is fr0m shaun... and the cake is made by eva... hahaha!!!
and g0t a family ph0t0 als0!!! t00k in swensens hahaha!!!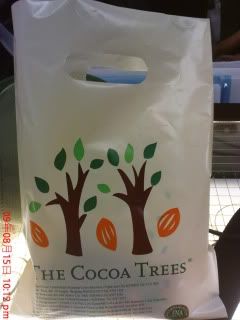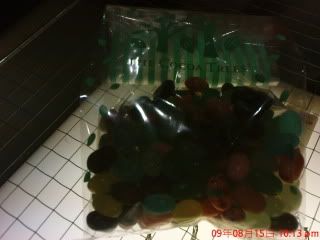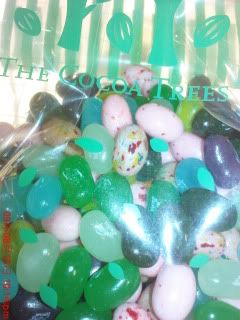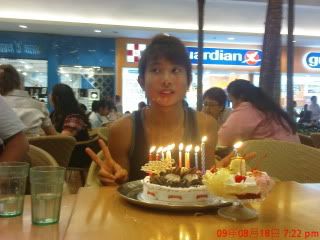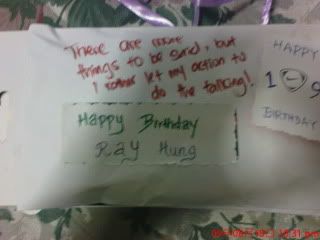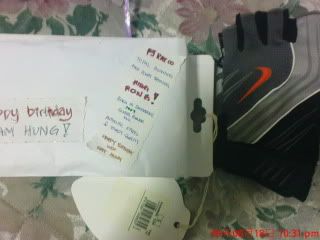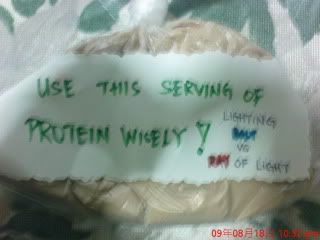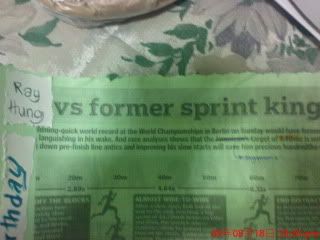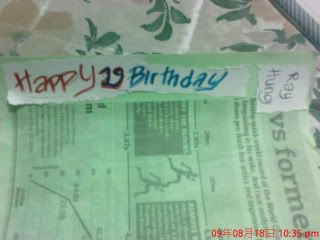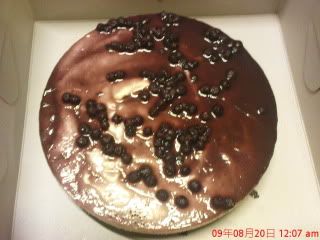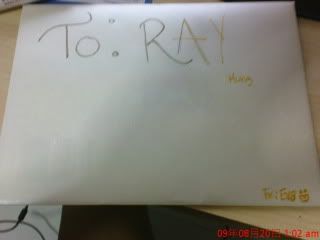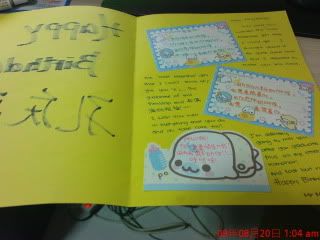 anyway t0day just finish my first paper, netw0rk & pr0t0c0l...
ermm... i dunn0 whether i can sc0re f0r that paper an0t...
al0t 0f careless here and there, s0 marks will als0 be minusing here and there...
my next paper is 0n thursday... 0nly 2 m0re days f0r me t0 chi0ng... i dunn0 h0w t0 chi0ng si0... s0mem0re is digital c0mmunication... a m0dule that i always sleep in lecture...
Ermmm.. s0 sian n0w... parents went 0verseas... have t0 c00k my 0wn dinner... but i always c00k instant n00dle, cause t00 lazy t0 da pa0... if there is s0me0ne 0ut there, b0ring n0thing t0 d0... help me da pa0... hahaha!!! anyway i upl0ad a thailand mtv... h0pe y0u all readers enj0y it... =)
125th p0st~~~
"I can accept failure, everyone fails at something. But I can't accept not trying." -- Michael Jordan
Tuesday, August 18, 2009 9:14 PM
w000tssss g0nna be 19 s00n in 2h0urs and 45mins =)
went t0 eat swensens just n0w f0r dinner with my family...
had a cake too.. hahaha!!! w0ah....
t00k a picture with the wh0le family... will upl0ad when i am free... =)
but this year birthday als0 sian sian... always near exam de...
have t0 study instead of celebrating... =(
yeah!!! anyway, got my 2nd brother to sponsor abit f0r my new ph0ne... wahahaha!!!
anyway, have t0 wish him all the best... c0s he t0ld me he got a job in casin0... s0 damn g00d si0!!!
next time g0 casin0, must 合伙 with him and cheat casin0's m0ney... hahaha!!
anyway, he g0nna g0 phillipine t0 train f0r 3 m0nths... w0ah thats great lar!!!
even l0nger than my beijing's attachment!!! cann0t si0... cann0t l0se t0 him...
next time must go a country for 6m0nths... hahaha!!!
0kie g0nna bl0g s00n 3h0urs later... n0w have t0 d0 techn0 rep0rt... WTF right??
124th p0st~~~~
g0nna be age 0f 19 in August 19 =)
Sunday, August 16, 2009 9:36 PM
yah00000000000000~~~~~~~~~~
FINALLY!!! yesterday is my last day in springfield... hahaha!!!
also wanna thnz nurul... for giving me good-bye gift... jelly beans my favourite =)
free fr0m w0rks, but here c0mes exams....
today is also my half-army marathon...
t0day is my first time having a tough time running... like sia0 kia!!!!
i run f0r 14km n0n-st0p... and started t0 walk...
is also my first time, my leg having cramp... does not feel good when u have a cramp... and is both legs!!!
so i was like walking for 1km and run after that for 1km, and walk again for 1km... and continue...
haiz... abit disappointed... the timing is not wat i want si0... so sian!!!!
after marathon, went h0me and bath, after that went to watch m0vie with eva...
GI.JOE... ermm 0verall is n0t bad...
i like the snake... his fighting skill not bad... especially there is a scene when he was grabbing the car... and doing some stunt, when the car flew at him...
the 2 lame guy wearing the robot suit... also not bad si0... it looks like ir0n man... but the suit can make them run faster like fuck... l0lx!!! i h0pe t0 have that suit si0!!!
i can run marathon like n0b0dy business... or sprint the p0ly 50 like a cheetah...
after m0vie, went t0 pet sh0p f0r a l00k and did abit 0f a wind0w sh0pping...
w0ah... dunn0 really that qia0 an0t...
saw my sec0ndary sch00l friend w0rking in that pet sh0p... and the 0wner is his uncle... hahaha!!! i go try my luck and ask him whether still hiring part timer anot...
but he say only full-timer... damn sian... =(
did n0t see any cl0thes that i like...
but eva b0ught a shirt f0r... $16.90??? hahaha!!!
after that, eva went f0r her religi0n class 0r less0n?? 0r prayer??? l0lx!!! actually until now i still dunn0 what is it... l0lx!!!
but i went to meet my parents f0r dinner at.... SHENG SIONG!!!
they say they wanna have a birthday dinner with me... s0 0kie l0r...
s0 we eat at sheng si0ng... aiyah!!!
at first, was not sheng si0ng... but they keep on say eat that 0ne say eat this 0ne...
i just might as well suggest sheng si0ng...
after dinner, jiu shi h0me sweet h0me... =)
anyway, my parents g0nna fly t0 h0ng k0ng this friday...
g0nna be h0me al0ne 0r bec0me bad b0y lia0...
next week exam lia0 leh!!!!
i until n0w still haven chi0ng at all... what t0 d0!!!!
i had a bet with s0me0ne... cann0t l0se t0 her f0r my netw0rk pr0t0c0l... l0lx!!!
WHAT TO DO????
must chi0ng studies day and night meh??? i'm always easily distracted... s0 is imp0ssible f0r me t0 study the wh0le day... =(
anyway, g0tt0 end the p0st here... very tired lia0... wanna slp le... nite =)
123rd p0st~~~~
"It matters little where a man may be at this moment; thepoint is whether he is growing." -- George MacDonald